Don't know what to do next? We do.™
Welcome to ServiceMaster Restore of Oakville
Water, Wind, Fire, Flood – Whether you have experienced property damage due to a singular incident or a Catastrophic event, ServiceMaster Restore of Oakville disaster restoration specialists are on-call 24 hours of every day to help you.
Fully equipped and trained with the most current restoration techniques and technologies, our certified staff of disaster mitigation specialists will respond rapidly and effectively no matter what the emergency, location or time of day or night.
When it comes to damage due to fire, flood or winds, mitigating the emergency is only part of the solution. We also provide complete repair services to bring your premises back to the warm, livable and workable condition that you deserve.
Whether the property damage is to a single family home, a high-rise or a commercial property, we have the experience and skills to provide the most effective solution to get your property back to its pre-loss condition.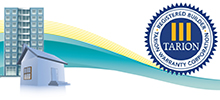 As a Tarion registered builder you are assured of not only a high standard of finish, but also an effective, no nonsense warranty program.
At ServiceMaster of Oakville, we not only restore your property, we also restore your Peace of Mind.
FAQs
Can I clean up fire and smoke damage in my home myself?
After fire and smoke damage in your home, we do not recommend you attempt any "do-it-yourself" cleaning methods without first consulting your ServiceMaster Restore qualified Restoration Technician. Pre-testing, using the right cleaning agent for particular items, mixing deodourizing agents with cleaning solutions and using correct dilution ratios are just some of the ways an expert fire restoration technician attains professional and controlled results. Professional cleaning systems and products used by experienced, trained technicians give you the best chance for successful restoration of your property and belongings.
How quickly can ServiceMaster Restore respond to the emergency situation at my business?
To minimize business interruption and help avoid further losses, ServiceMaster Restore responds quickly to provide flood clean up and certified water damage and restoration, fire and smoke restoration, and mold removal services to businesses across all industries. We're on call 24 hours a day, 7 days a week, 365 days a year. ServiceMaster Restore's CommercialLINK preferred partner program will ensure that your company is first in line. CommercialLINK allows you to pre-qualify ServiceMaster Restore as your vendor of choice, allowing immediate action to be taken to mitigate loss in the event of a disaster.
Blog
Smoke Alarm Safety Tips
Smoke alarms save lives. That's why smoke detector checks are a necessary and effective way to protect your building and the people in it from smoke and fire emergencies. And it doesn't take a lot of effort to keep yours working properly. Use the tips below to ensure your smoke detectors are up to snuff. In a true fire emergency, working smoke detectors could mean the difference between life and death. Check your smoke detectors today to keep your home or business as safe as possible.
ServiceMaster Restore of Oakville
2600 Bristol Circle
Oakville, ON, L6H 6Z7
Tel: 289-813-3583
Email: claims@svmoakvilledr.com
About Us
ServiceMaster Restore of Oakville is a leader in the disaster restoration industry. Our mission is to be the premier provider of professional restoration services to the residential home, condominium and commercial markets. While o
Read More
News
Targeted Commercial Cleaning and Disinfecting Can Help Prevent the Spread of Coronavirus COVID-19
With so much uncertainty about the current global outbreak of the COVID-19 coronavirus, all businesses need to consider how best to prevent and decrease the spread of the infectious disease in their workplace.