Don't know what to do next? We do.™
Welcome to ServiceMaster Restore of Oakville
Water, Wind, Fire, Flood – Whether you have experienced property damage due to a singular incident or a Catastrophic event, ServiceMaster Restore of Oakville disaster restoration specialists are on-call 24 hours of every day to help you.
Fully equipped and trained with the most current restoration techniques and technologies, our certified staff of disaster mitigation specialists will respond rapidly and effectively no matter what the emergency, location or time of day or night.
When it comes to damage due to fire, flood or winds, mitigating the emergency is only part of the solution. We also provide complete repair services to bring your premises back to the warm, livable and workable condition that you deserve.
Whether the property damage is to a single family home, a high-rise or a commercial property, we have the experience and skills to provide the most effective solution to get your property back to its pre-loss condition.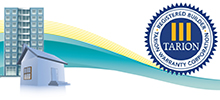 As a Tarion registered builder you are assured of not only a high standard of finish, but also an effective, no nonsense warranty program.
At ServiceMaster of Oakville, we not only restore your property, we also restore your Peace of Mind.
FAQs
Why did the technician leave wet carpet on my stairs?
After water damage in your home, stair carpeting is generally not removed for safety reasons. Exposed tack strips or staples, especially on steps, can be dangerous. However, there are situations where removing carpet from stairs is necessary to prevent damage to hardwood steps underneath, or in the case of sewage contamination. Removing tack strips is not advised, as this may damage the hardwood or the subfloor. Extreme caution must be used whenever the tack strip is exposed or when the carpeted stairs are damp. If carpet left on the stairs is unsalvageable, it will be removed when new carpet is installed.
What are some safety concerns for smoke or fire damage at our business?
Occupant and worker safety is ServiceMaster Restore's top priority. During the initial inspection, safety hazards are identified and addressed, including debris removal, air quality, electrical issues, slip and trip hazards, etc. Burnt equipment and electrical devices are separated out for disposal, and questionable electrical equipment or devices are unplugged and tagged for evaluation of safe operation. Electrical power may have to be turned off in the entire facility until evaluation by a licensed electrician is completed.
Blog
Smoke Alarm Safety Tips
Smoke alarms save lives. That's why smoke detector checks are a necessary and effective way to protect your building and the people in it from smoke and fire emergencies. And it doesn't take a lot of effort to keep yours working properly. Use the tips below to ensure your smoke detectors are up to snuff. In a true fire emergency, working smoke detectors could mean the difference between life and death. Check your smoke detectors today to keep your home or business as safe as possible.
ServiceMaster Restore of Oakville
2600 Bristol Circle
Oakville, ON, L6H 6Z7
Tel: 289-813-3583
Email: claims@svmoakvilledr.com
About Us
ServiceMaster Restore of Oakville is a leader in the disaster restoration industry. Our mission is to be the premier provider of professional restoration services to the residential home, condominium and commercial markets. While o
Read More
News
Proud Sponsor of the 2020 Scotties
For the fifth consecutive year, ServiceMaster Restore is proud to continue its sponsorship as Premier Partner of the 2020 Scotties Tournament of Hearts. Canada's top women curlers will be vying for the title of Team Canada at Mosaic Place in Moose Jaw, Saskatchewan from February 15th to 23rd.