Don't know what to do next? We do.™
Welcome to ServiceMaster Restore of Oakville
Water, Wind, Fire, Flood – Whether you have experienced property damage due to a singular incident or a Catastrophic event, ServiceMaster Restore of Oakville disaster restoration specialists are on-call 24 hours of every day to help you.
Fully equipped and trained with the most current restoration techniques and technologies, our certified staff of disaster mitigation specialists will respond rapidly and effectively no matter what the emergency, location or time of day or night.
When it comes to damage due to fire, flood or winds, mitigating the emergency is only part of the solution. We also provide complete repair services to bring your premises back to the warm, livable and workable condition that you deserve.
Whether the property damage is to a single family home, a high-rise or a commercial property, we have the experience and skills to provide the most effective solution to get your property back to its pre-loss condition.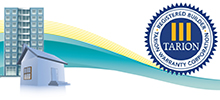 As a Tarion registered builder you are assured of not only a high standard of finish, but also an effective, no nonsense warranty program.
At ServiceMaster of Oakville, we not only restore your property, we also restore your Peace of Mind.
FAQs
How long will it take my property to dry after flooding or other water damage?
Drying time after water damage in your home is determined by a combination of factors including the location, duration and source of water; the types of building materials in your home; weather conditions; and how quickly emergency restoration services are started. Through consistent monitoring and evaluation of the drying process, our trained technicians can determine when the drying is complete. For example, your carpet may feel dry to the touch, but padding and subfloors may still be wet underneath. While there are no hard and fast rules to determine how long your property will take to dry, we can tell you it may take between three and five days or more, depending on the conditions.
What causes mold?
Excess moisture caused by leaks or flooding in your commercial property — especially in typically damp environments like the kitchen and bathrooms — creates the perfect breeding ground for mold or mildew. To control and reduce the risk for mold growth in these areas, you must properly maintain your plumbing system and monitor any appliances in your facility that use large quantities of water, such as dish washers. Small amounts of indoor mold are unavoidable and usually harmless. In damp environments, however, mold spores can more easily reproduce and cause more serious and difficult to remove mold problems.
Blog
Flood Preparedness Tips for Your Home and Business
According to the government of Canada, floods are the most frequent natural hazard in the country. They can occur at any time of the year but are on the rise during the spring due to the heavy rainfall and rapidly melting snow. Potential flooding is not limited to homes but can have a significant impact on businesses as well.
ServiceMaster Restore of Oakville
2600 Bristol Circle
Oakville, ON, L6H 6Z7
Tel: 289-813-3583
Email: claims@svmoakvilledr.com
About Us
ServiceMaster Restore of Oakville is a leader in the disaster restoration industry. Our mission is to be the premier provider of professional restoration services to the residential home, condominium and commercial markets. While o
Read More
News
WATER-RELATED DAMAGE IS ON THE RISE
In today's world of extreme weather events, $1 billion has become the new normal for yearly catastrophic losses...