ServiceMaster Restore of Oakville is a leader in the disaster restoration industry.
Our mission is to be the premier provider of professional restoration services to the residential home, condominium and commercial markets. While our focus is primarily Oakville and the Greater Toronto Area (GTA), we respond when and where our customers need us.
We have a strong team committed to exceeding the expectations of our customers. Rapid response, effective solutions, empathy in difficult situations; all of this adds up to superior service for you.
A Brief History...
ServiceMaster Restore of Oakville is a franchise owned & operated by Bill Calhoun. Bill has over 20 years of experience in the Disaster Restoration Industry with ServiceMaster and a work history focused on building and nurturing effective teams. You might say that Bill was born into the construction industry. Bill's father was an owner/operator of a construction company. ServiceMaster of Oakville is a proudly Independent Canadian Business.
Condominium Emergency Specialists
Our location in Northeast Oakville has given us the great opportunity to effectively service many areas within Southern Ontario. We have quick access to the 403, QEW, 407, & 401. We have been servicing the Condominium Industry throughout the GTA, Golden Horseshoe & Hamilton Regions. Bill has made it a company mission since he entered the business to provide outstanding service to the Condominium Corporations of these regions. ServiceMaster of Oakville is a Preferred Contractor for Atrens Counsel Insurance Brokers Inc.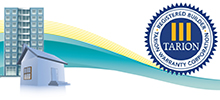 Over the years, ServiceMaster Restore of Oakville has built on its core strengths and has become a certified Tarion builder. This certification enables us to manage reconstruction projects of almost any size; from small repairs to full house reconstruction, and provide our customers with the assurance that the work and warranty meets the rigorous requirements of the Tarion New Home Warranty program.
We provide value to our customers by building long-term relationships, utilizing advanced products, techniques and systems. Additionally, our technicians are highly trained and certified in the areas of disaster mitigation and restoration. All of these attributes help us to deliver a superior customer service experience.
We firmly believe that we don't just work in the community, we work with the community. This is exemplified by the pride that we take in providing ongoing support to Community Living Oakville; our Sustainable Planet initiatives and involvement with a number of our customer's charitable events.